Frequently Asked Questions on our Dyed Fabrics
1. Can the dyed fabric be used outdoors?
Short Answer: Not recommended
Long Answer: Fabrics that go for outdoor applications [tents, awnings, etc.] are exposed to harsh weather. Hence they are manufactured to meet a different set of specifications. Certain additives like UV inhibitors (to prevent color fading); mildew inhibitors (to prevent mold & mildew); Fluorocarbons (for stain resistance) are included in the dye bath. A simple direct dye like what we have used on our stock program will not be adequate to meet the above requirements. So, our stock dyed fabrics are n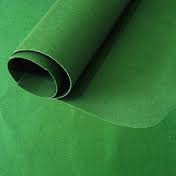 ot suitable for outdoor use. The only exception to this rule will be our specialty finishes (Sunforger, Canvak & Pyrosnuff).
2. Can I wash the dyed fabric or the product made from it?
Short Answer: Not recommended
Long Answer: For reasons beyond our control, we do not recommend washing the fabrics purchased from our dyed stock programs. We can gladly submit a quote to meet the specific needs. Please contact us for more information.
3. Can I make garments using your dyed fabrics?
Short Answer: Yes and No.
Long Answer: If you consider work-wear and uniforms as a garment (believe us, some do!), then you can use our dyed fabrics for that purpose. If you are planning to make shirts, skirts or pants, then we suggest not to use our dyed fabrics. Our production technique and materials used do not result in a good quality dyed fabric suitable for making garments. Basically, all our dyed fabrics are intended for an industrial application like tote bags, aprons, upholstery, etc.
4. I have a need for a specific color. Can you do custom dyeing and finishing?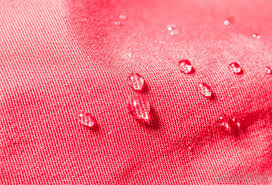 Short Answer: Yes! We certainly can.
Long Answer: With an array of 10 product lines and 100's of color choices as a stock program, we certainly hope that one of our stock fabrics will meet your need. But if you have a specific color or finish, we certainly can help you. Custom color? Need fabric slit? Special put-ups? Need an FR finish? Vat Dyeing? Military Specs? No problem! We can do most of them. Even if we cannot, we will at least we can offer you an alternative.
5. Is color bleeding and crocking the same?
Short Answer: No. They are not!
Long Answer: Based on our experience, we can say for sure that crocking and bleeding are always mixed up and used interchangeably by our customers. For a textile purist, both are as vastly different as an onion is from a pumpkin.

Crocking refers to the "color-transference" of a fabric. In layman terms, it is called "rubbing". There are two types of crocking - Dry & Wet. In dry crocking, a piece of a dry white cloth is rubbed against the dyed fabric in a crock-meter. After a specific time (or number of rubs), the white fabric which will have some stain from the dyed fabric (due to the rubbing) is measured on a scale of 1 to 5, 1 being "very poor" & 5 being "excellent". The same method is used for a wet crocking, except that in this case, the white cloth is damp. All our stock program dyed fabrics have a dry crock of 2.5 - 3.5+ and a wet crock of 1.5 - 2.5+, depending on the color. There is no such thing as "no crocking". Every fabric crocks (except white) - some less, some more. As an end user/manufacturer, you need to advise us what standards are acceptable.

Bleeding means "What happens when the dyed fabric is washed?" Dark colors like black and red will bleed more in comparison to a tan or light grey. There are other factors like temperature of the water, washing time, type of detergent used, etc. that can affect the color bleeding in a fabric. There are different standards set by ISO & AATCC to determine the various levels of color bleeding. You need to inform us the wash standards of the dyed fabric so that we can advise you further.
6. I don't want any color bleeding in my fabrics. Can you guarantee that?
Short Answer: Sorry, we cannot! Truth be told - nobody in the industrial fabric business can make that guarantee.
Long Answer: Every dyed fabric bleeds. Some bleed more, some less! If you cut a small piece of a black or red dyed duck fabric and dip it in a cup of warm water, you will observe color bleeding. This is normal. On the contrary, if it was a light color like grey or linen, you may not see any bleeding. There are several aspects that affect color bleeding [texture and weight of the cloth, color, dye method, apparatus, chemicals, etc.]. We do not have any control on how the end-user is going to wash the fabric. So, we cannot guarantee on color bleeding. Our simple advise is never to wash the fabric. If at all required, you may remove the excess dirt using a moist sponge and air dry. Based on our collective experience, we can recommend a few things that improve the color bleeding in the cloth. However, dyeing is not an exact science and there is no guarantee for a zero color bleed.
7. I want the best color-fastness in the fabric. Any suggestions?
We have also seen that the term "color-fastness" gets mixed up with crocking and bleeding (see Q-5 & Q-6 above) by our customers. In a technical sense, color-fastness or light-fastness refers to what happens to the color of the fabric when it is exposed continuously to a steady source of light. This term is usually reserved for fabrics intended for outdoor use [e.g., casual furniture]. In lab conditions, the dyed fabric is exposed to a Xenon Arc lamp that emits UV radiations on glowing. The fabric is exposed to a certain amount of time [say 1500 hours] and then compared on a scale of 1 to 8, with 1 being "severe loss of color" to 8 being "no change in color". Since our stock dyed fabrics do not have any UV inhibitors, we neither have tested this light-fastness nor recommend our fabric for outdoor use. The only exception to this rule will be our specialty finishes (Sunforger, Canvak & Pyrosnuff), which are suitable for outdoor use [but we do not guarantee any colorfastness]. Our regular dyed stock collection is not suitable for outdoor use. For better colorfastness, we would suggest you to go with Vat Dyeing.
8. I have a product in my mind. But I am not familiar with the textile terms and specifications. Will you help me?
Absolutely! It is a two way learning process. We have done this exercise many a time with several folks who are now our loyal customers. The more we know about the product, the better we can help you. We may not have all the answers, but, we work with some of the brightest minds in the U.S. Textile Industry who can help us. Rest assured your discussions with us will be treated as confidential.